Technomad – Audio Solutions for Aquatics Facilities


Wet-area Loudspeakers

,

Waterproof Amplifiers

,

IP-Rated Mixers

and

Portable PA Systems
Ultra-durable PAs, loudspeakers and amps, all built for wet-area use. USA-made since 1995.
---
Why Swim and Aquatics Managers Choose Technomad
Clear Audio in Reverberant Spaces

Hi-fidelity audio means that announcements and music comes through clearly in high-reverb spaces like pools and gyms.

100% Weatherproof

Don't worry about keeping water off of anything Technomad. Our portable and permanent PA systems are all designed to be 100% weatherproof.

Save Money on Costly Replacements

Technomad systems can withstand hurricanes, years of harsh sun and any environment on the planet. Save money by not having to replace your speakers and amps every few years.
---
---
100% Weatherproof Commercial Audio Gear
We poured over 3600 gallons of water on our Vienna loudspeaker and PowerChiton amplifier.
No lapse in function. No lapse in audio quality.
» IP56 rated speakers and IP66 rated amplifiers «
---
---
---
---
Who Uses Technomad™ Products?
Technomad is also trusted by every major cruise line and by all branches of the US military.
---
Recommended Technomad Products
The ultimate portable PA. Perfect for poolside coaching or race announcements. Only 25 lbs, charges anywhere and has a 5-hour battery life at full operation.

IP56 weatherproof, 2-way full range loudspeaker. Applicable for permanently installed pool-side use. Indoor and outdoor.

PowerChiton Outdoor Amplifiers

Professional-grade IP66 outdoor amplifier. True waterproof construction. Optional wireless setup.

The perfect solution for pools, patios, spas, or any location where you need a complete mixer-amplifier solution that shrugs off UV, rain, snow, and more.

Powerful, weatherproof IP56 subwoofer. Add detail and sound quality to your sound system with high-fidelity low-frequency support.

Designed to work with the PowerChiton amplifiers, the BreakoutBox series provides a local interface in a low profile, weatherproof enclosure.
View Technomad's "Turn-Key" PA Systems for Pools and Swimming Areas
View our full line of Technomad products
---
---
» Need help? Our experts can help recommend the best system and products for your aquatics facility. Contact us via the form below or by calling 1.800.464.7757 «
---
---
Contact Us
---
Why are Technomad Loudspeakers so Weatherproof?
Rotationally Molded Shells

Our shells are 3 to 4 times thicker than ordinary injection molded loudspeaker cabinets. Virtually indestructible, heat, UV radiation, cold and other sources of damage are inconsequential to Technomad loudspeakers.

WeatherTech™ Three-layer Grill

This grill consists of a small-diameter perforated stainless steel layer, a nylon mesh layer to further break down precipitation and an acoustically-transparent foam layer – which is treated with a proprietary hydrophobic coating.

Weatherized Drivers

Technomad drivers are weatherized at the component level. The spiders and surrounds of all Technomad cone drivers are specially treated to resist water damage, and our high-frequency drivers are mechanically and chemically protected also

Moisture Bleed Holes

Unlike our competitors, we don't pretend that water will never enter our loudspeaker cabinets – we know it will! Tiny bleed holes in the corners of our cabinets allow condensation and water forced through the grill via humidity to drain harmlessly away

Sealed Electronics

Technomad crossovers and internal electronics are fully sealed, and are totally unaffected by moisture. Even a doused speaker has no risk of water disrupting the electrical components of a Technomad loudspeaker.

Anti-fungal Treatments

Proprietary anti-fungal treatments protect the inside of the cabinet, killing mold, fungus, and other biological sources of damage. No opening up the cabinet to find a pool of algae filled water or damaging mold.
Of course, the most important element of the unique Technomad weatherproofing approach… is the sound. Other manufacturers kludge a crude stainless steel grill onto a standard non-weatherproof loudspeaker, give it an epoxy or catalyzed paint job and call the result "weather-resistant". In contrast, every Technomad loudspeaker is designed to be a weatherproof product without sacrificing audio quality.
---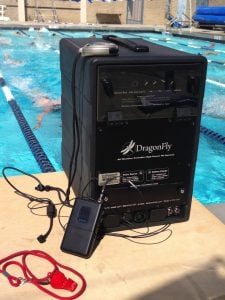 ---
---
Technomad Quick Facts
» USA made since 1995 «
» Loudspeakers built to military-grade specifications «
» Used in sports stadiums and arenas in some of the most demanding environments on Earth «
---
---
What Customers Are Saying
Intelligibility is superb even over 30 meters of throw
---
---
»
Interested in a product recommendation, a system design, or a quote? Please call
1.800.464.7757
or fill out our
on-line guest book
. We are here to help you.
View our full line of Technomad products