Technomad LLP, the award-winning manufacturer of weatherproof, high-powered, high fidelity professional loudspeakers is proud to announce the company's tenth anniversary. Founded in 1995 in Northampton, Massachusetts, Technomad LLP dramatically altered the professional loudspeaker industry by introducing the first-ever full line of highly accurate Mil-Spec loudspeaker systems specifically designed for all-weather and highly abusive mobile and installation applications. Combining super-rugged Mil-Spec road case technology with a number of acoustic innovations, Technomad loudspeakers are very powerful, musically accurate, compact and durable.
Technomad loudspeakers offer the user unrivaled control over every type of program material, through the entire frequency spectrum, whether it's recorded or live music, spoken word, sound effects, etc. Offering outstanding throw and projection, along with wide dispersion, Technomad loudspeakers feature integrally, designed-in weatherproofing that does not compromise acoustic performance – a common problem with competitive "weatherized" loudspeaker products.
Technomad was thrust into the limelight when pro audio industry trade publications PRO SOUND NEWS and SYSTEMS CONTRACTOR NEWS called Technomad "One of the Hottest Products of 1995,' MIX Magazine stated, "Top Product of the 1995 AES Expo,' and the readers of LIVE SOUND INTERNATIONAL Magazine voted Technomad loudspeakers "The Best New Technology of 1996.' Soon after, Technomad loudspeakers were installed in high-profile critical listening applications including prestigious cruise ships, theme parks including Universal Studios and Disney, sports stadiums, outdoor entertainment venues, as well as other harsh environment fixed system and mobile applications in military, government and the private sectors all over the world.
Lauded by systems integrators desperate for a solution for all-weather audio applications, Technomad quickly became the recognized leader in all-weather and harsh environment loudspeaker systems. With Technomad's success, many other loudspeaker manufacturers soon recognized the glaring industry omission of all-weather high-fidelity loudspeakers as a specialized product category. Many manufacturers quickly followed suit, designing similar products, but none have yet to achieve Technomad's innovative weather-resistant characteristics, audio reproduction quality and robust, near-indestructible construction. Additionally, Technomad loudspeakers offer many unique features and benefits not available from any other loudspeaker manufacturer at any price, including one-piece polyethylene cabinets manufactured from 100% recycled material, ATA III-rated self-casing cabinets, acoustically transparent three-layer speaker grills that prevent water entry, corrosion resistant cabinet hardware, and the ability to be installed in direct contact with water, mist and vapor.
Moreover, no other weather resistant loudspeaker manufacturer offers such an impressive product warranty as Technomad. The 10/5/2 Warranty covers all Technomad loudspeaker models in the following manner: 10 year unconditional warranty against all manufacturer defects on Technomad's Military Specification 810F polyethylene loudspeaker cabinets, five years coverage on external Mil-Spec hardware, including fly ware, latches, strikes, handles, etc., and Technomad's proprietary weatherized electronics, crossovers, attenuator networks, drivers, wiring, connectors, etc., are warranted against manufacturer's defects for a period of two years.
All Technomad loudspeakers models are available in self-casing touring models, as well as standard and 70 Volt installation versions and they are available in a variety of cabinet colors.
The original Technomad crew, circa 1995
A stack of early Nohos waiting to be shipped, circa 1996
A Vienna 16 in the Technomad Trade Show Water tank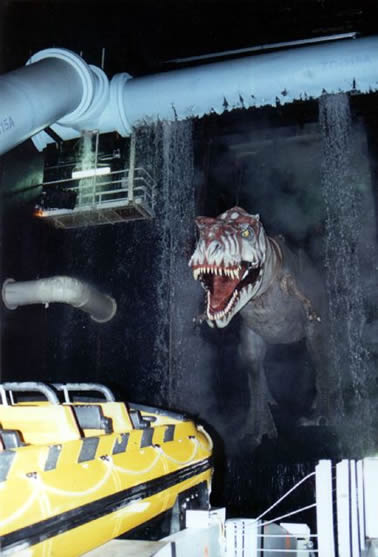 T-Rex Greets Visitors at Jurassic Park, Universal Studios (Note Berlin loudspeaker in between pipes above left in photo)
REFERENCE LINKS
» Why are Technomads so Weatherproof?
» Turn-Key PA Systems
» How Technomads Are Made
» Customer Comments